April 13, 2015
ATV Storage Units in Houston
Categories: News
While self storage options are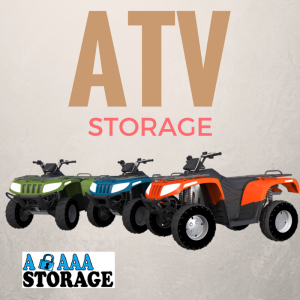 commonly available, what about specific storage units for items like an ATV? Unlike other types of storage units, there can be a certain amount of fuss surrounding storing an ATV. For instance, there may be restrictions against storing any type of flammable liquid in a storage unit, and an ATV would be disqualified. Nevertheless, there are options for storage unit for off-road vehicle purposes, and we have the answers.
Fun is a Common Reason for Needing ATV Storage
When your favorite hobby is going out into the woods for mudding or desert adventuring on an ATV, you may find your weekend dreams are out of reach because you live in an apartment that has a shared garage or parking lot. In other words, if you have an ATV that you use occasionally, storing it can be a problem if you do not own your own home with a garage. After all, your ATV can be stolen or damaged if you leave it chained up outside.
Other Considerations for Storing ATVs
When you are considering an ATV storage facility, there are keys to look out for regardless of using it for business or pleasure. Mainly, the width of the room and the height of the ceiling will need to be taken into account prior to renting. The size of the door of the rental unit will also need to be a priority. In general, storage units with garage doors will be wide enough to park an ATV trailer. A unit that is at least 10-feet long will be ideal for an ATV, trailer and addition gear.
Storing and Accessing Business ATVs
While many businesses use cars or trucks, an ATV might be part of your company's operations. This is especially true if your duty is to monitor large tracks of outdoor territory. To make things easier, parking the ATV in a location outside of the business may be the best solution. To ensure everyone has access to the storage facility, you will need a storage unit for the ATV that includes features like 24-hour security and 24-access. The facility you choose to house the ATV also must allow more than one person unlock the facility gate and the actual unit at any time.
Reasons there are ATV Restrictions in Storage Units
While you may love your ATV, storage units can restrict them for a variety of reasons. Primarily, there is the issue that the gas tank has flammable liquid in it, and this creates hazards for self-storage facilities. The other issue is that ATVs often track in a lot of mud to the storage facility and that creates extra work for the company housing the ATV.
Long-term storage unit for off-road vehicle
When you need to store your ATV for a long period of time, there are certain techniques that you should observe. For example, you will need to drain the oil and gas lines to decrease the chances that the chemicals combust. Using a canvas tarp to cover it keeps pests from using it as a home and keeps dust to a minimum. To winterize your ATV, get out the owner's manual and try cleaning the battery, changing the filters, lubricating the pistons, waxing the exterior, rubbing down plastic or metal surfaces with a rust-preventing lubricant and inflating the tires.
Get ATV Storage From Us
When other storage facilities deny you for having a restricted item like an ATV, it can seem like there is no solution in sight. Despite this, self storage for your ATV is easy with us. We can help you find the facility with the features you need — with the terms you have been looking for. To get started, contact A-AAA Houston Storage today and look forward to having your ATV stored with the security and ease of access you need.
A-AAA Houston Storage
7625 North Loop East
Houston, Texas 77028
Phone (713) 670-7272




OFFICE HOURS
Monday - Friday 9 a.m. - 6 p.m.
Saturday 9 a.m. - 6 p.m.
Sunday 10 a.m. - 3 p.m.
GATE HOURS
Daily 6 a.m. - 10 p.m.