May 28, 2015
How to Choose The Right Size Storage Unit
Categories: Storage Tips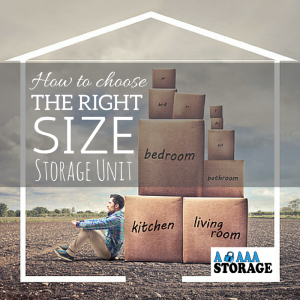 The need for an affordable storage unit is something that many people require at some point, due to any number of reasons. A Houston self storage unit should be large enough to handle whatever inventory is being stored, and should also have all of the protective measures available to protect it all from the elements.
Of course, the wide range of living arrangements or business situations create a wide variance in the self storage Houston residents are seeking. Some may have been living in a one-room apartment or working out of shared office space, while others may have resided in a five-room home or simply need a place to safely store past business records.
Regardless of the situation, there are usually up to six options when it comes to choosing an affordable storage unit. Here are some potentially valuable tips in selecting the right size when it comes to Houston self storage:
The smallest self storage Houston units tend to be five by five feet (25 square feet) and are usually good for such things as personal items, such as clothes or small boxes. However, this unit can also be used to store important records that need to be kept for future use, as well as some small furniture. These usually have a height of eight feet, so stacking will get the most out of it.
The next largest is five by 10 feet (50 square feet) is something that can usually handle a bedroom, but not something larger than a queen-sized bed. Depending on the size of that bed, there could also be room for a chest of drawers or a dresser, along with any chairs or stools that may be a part of a vanity mirror.
Since the size is getting larger, the 10 by 10 feet (100 square feet) unit will be able to hold the equivalent of a family room or a pair of bedrooms, or the contents of a one room apartment. In the event the occupant is from a business, it can hold one full office. This includes not only the desk, but the chairs and technology, and will likely have room left over for some additional boxes of stored items.
At 10 by 15 feet (150 square feet), they'll be enough room for a two-bedroom home or apartment to be stored safely. Additionally, someone residing in a small house should be able to fit their belongings in this area. That batch includes not only furniture, but also vital kitchen items such as a refrigerator, while businesses will be able to store some of their inventory or miscellaneous items.
By renting the 10 by 20 (200 square feet) self storage Houston unit, anything up to a three-bedroom apartment or house can be accommodated. Also, any boxed up material should be able to fit. When it comes to businesses, file cabinets or any inventory that can be placed on storage racks are ideal for this size. This size has been described as the equivalent of a one-car garage, which obviously has a car to take up the bulk of that space under normal situations.
Generally, the largest-sized unit available will be the 10 by 30 (300 square feet) variety, which can handle pretty much anything a four or five bedroom home has within it. Imagining the size of a two-car garage is probably the best way to describe exactly how large this area is, since it not only accommodates the furniture and appliances within a home, but has plenty of room for the boxes of items that will be stored. Larger businesses with a greater backlog of records or files would likely be more inclined to choose this option, given the scope and span of those items.
In some instances, the size of certain Houston self storage units may vary slightly or be available in addition to the six listed that are listed above. However, getting the most for your money is something that an affordable storage unit can do, since the guidelines above help to gauge exactly what your needs may require. That's because there's no sense paying for extra space you really don't need. If you have questions about choosing the right size for your needs, contact A-AAA Houston Storage today!
A-AAA Houston Storage
7625 North Loop East
Houston, Texas 77028
Phone (713) 670-7272




OFFICE HOURS
Monday - Friday 9 a.m. - 6 p.m.
Saturday 9 a.m. - 6 p.m.
Sunday 10 a.m. - 3 p.m.
GATE HOURS
Daily 6 a.m. - 10 p.m.