December 4, 2012
Make Extra Space in Your Clothing Closet
Categories: Storage Saves Money Storage Tips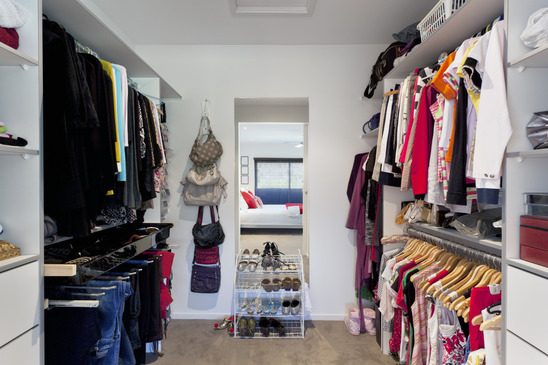 It can be difficult finding a space for every item you have in your home and while storage units are a useful option, there are other solutions that you can use to maximize your home space, like organizing your closet with some clever, budget-friendly, space-saving items. Here are some great storage solutions for those of you looking to get more space out of your closets, from your Houston TX storage company:
Over-The-Door Storage Organizers
One of the commonly wasted storage areas in closets is is the door itself, which many people forget can be used for storage with the right equipment! There are plenty of options for over-the-door storage, with shelves, baskets and pockets that can store shoes, jewelry, linens and clothing. Keep in mind the clearance the door requires when you're shopping for door organizers, so that you don't have to waste time on returns. Here are some options to get you started on making more space in the closet!
Use Thin and Specialty Hangers to Save Space
For clothing that shouldn't hang, like knit sweaters, fold these up and stack neatly on shelves. But the rest can be hung and the most effective use of closet storage space is to use thin hangers like these, or space-saving hangers like these or these. Hangers might not seem like that big of a deal when it comes to home organization, but they really do save a lot of space in your closet.
Pack Away Out of Season Clothing in Storage
Place out-of-season clothing in bins and drop them off at your self storage unit. You might think that you need access to your entire clothing selection year-round, but think again – you won't miss your 23 t-shirts in the dead of winter when your snuggled up in long-sleeves and sweaters. This tip is especially useful for parents with kids, as children tend to be simplistic in their approach to clothing and as long as they're dressed for the season, the rest of their clothing goes ignored.
Solutions for Closet Spaces with Slanted Walls
If you have a Cape Cod style home, chances are you have a closet with a wall that slopes down which can make it hard to maximize the space for storage. An storage solution for a slanted wall is to find shelving units that fit below the angled ceiling, like this low clearance shelf. You could also mount a long pole along the slanted wall and use it to hang more clothing, just be careful that there is enough space in between the bar and wall to accommodate for the clothing to hang straight.
A-AAA Self Storage Can Help You Make Space
Of course, if you're needing a great deal more space than your closets can offer, there is always the option to rent a storage unit to keep unnecessary items out of the way. If you're looking for storage options while organizing your home, contact us and we'll help you find the perfect storage unit for your needs and budget!
A-AAA Houston Storage
7625 North Loop East
Houston, Texas 77028
Phone (713) 670-7272




OFFICE HOURS
Monday - Friday 9 a.m. - 6 p.m.
Saturday 9 a.m. - 6 p.m.
Sunday 10 a.m. - 3 p.m.
GATE HOURS
Daily 6 a.m. - 10 p.m.