April 21, 2015
Do's and Dont's of Storage Units
Categories: Storage Tips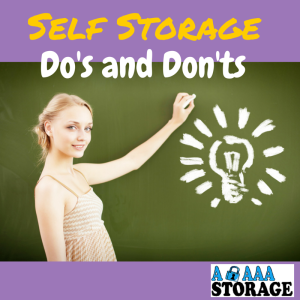 Storage units are a convenient and affordable way to store a variety of items, from unused furniture to hobby equipment. Whether you are storing items during the intermittent stages of moving or opting for a more long-term storage solution, these are the basic do's and don'ts of using storage units.
Storage Do's
Do Pack Smart


Taking a little extra time to pack with logistics in mind can make the transition to storage a smooth one. A simple step to start with is wrapping all fragile items in newspaper or bubble wrap before putting them into boxes. You should also label everything that goes into storage, especially if it will be there long term.

Do Plan Ahead


Some storage facilities require advanced notice or may not have any openings when you need them. If you are moving items into storage for a time-sensitive reason, such as moving to another location, be sure to contact your chosen facility at least one week in advance of when you plan to move. This helps to ensure that your unit will be available when you need it.

Do Set a Realistic Timeframe


When making decisions about the storage process, consider things like work, school, childcare and other commitments that could affect your ideal timeline for moving into a storage space. Likewise, it is important to be realistic about when you will be able to remove your items from storage. It is generally better to give yourself extra time to use the unit than to ask to renew your contract at the last minute only to find that the space has been rented to someone else.

Do Prepare for Removal


Self storage means that you will be required to remove all items from storage by a certain date in order to terminate your contract. Delay of even a few hours could mean paying for an extra month of storage simply because you weren't able to clear your unit out according to your original timeline.

Do Get to Know Your Facility


When choosing a Houston storage facility, look for a company that has a 24/7 presence on site. This ensures that someone will always be available if you need to report an issue with your unit. Also pay an in-person visit if possible to ensure that the facility is laid out in a convenient way and meet briefly with the on-site staff to see how they handle customer service.
Storage Don'ts
Don't Store Dangerous Items


Dangerous items such as household chemicals or even food can cause serious storage security issues. Avoid storing any flammable items such as cleaning solvents, which are not meant to be stored in a temperature variable environment such as a storage unit. Storing food also poses the risk of inviting insects and even animals into your storage space, which could lead to an infestation and other unsanitary conditions.

Don't Forget About Security


Security is one of the most important aspects to consider when choosing a Houston storage facility. You should be able to feel safe visiting your unit at ant time of day and rest easily knowing that your items are safe. Facilities with advertised security available on-site at all times are preferable as they deter potential thieves.

Don't Move Items Carelessly


When moving items in or out of storage, avoid handling unmarked boxes or furniture roughly. It is easy to damage items without realizing it if they are stored improperly or if fragile items are not well marked. If someone else is moving your items, explain that care is a priority over speed.

Don't Forget Insurance


Most storage facilities hold no liability for items that are lost, stolen or damaged on their property. Protect your goods by purchasing a storage insurance plan that covers a wide range of potential accidents and hazards, from theft to natural disaster.

Don't Simply Choose the First Facility


Many storage companies lure new customers in by advertising free rent or large discounts that turn out to be too good to be true when you read the fine print. Before settling on a unit, shop around and compare prices as well as online reviews to ensure that their deals are legitimate.
By applying the basic do's and avoiding the basic don'ts of storage, you can make the transition of your chosen items into storage an easy one. From choosing a secure storage facility to thinking strategically before you store your belongings, there are easy steps you can take to make sure that storage adds convenience and space to your life. Contact A-AAA Houston Storage for a self-storage solution in Houston, Texas and let us know how we can help you with your storage needs!
A-AAA Houston Storage
7625 North Loop East
Houston, Texas 77028
Phone (713) 670-7272




OFFICE HOURS
Monday - Friday 9 a.m. - 6 p.m.
Saturday 9 a.m. - 6 p.m.
Sunday 10 a.m. - 3 p.m.
GATE HOURS
Daily 6 a.m. - 10 p.m.