August 19, 2015
How to Find a Self Storage in Houston's Inner Loop
Categories: Secure Storage Self Storage Units Storage Tips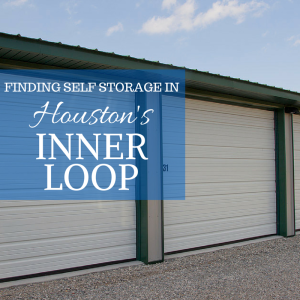 Moving to a new residence or place of business sometimes brings with it circumstances that require searching for storage units in Houston. This can mean simply downsizing to smaller living quarters or clearing out a room to expand the overall viability of your home.
For a business, it might be related to running out of room to store information that has to be saved for either legal or tax purposes. While there's no day-to-day need involved with accessing that data, having it in a nearby central location can be invaluable.
Living in the Inner Loop
So for residents of the Inner Loop, searching for Houston storage units that take into account each situation is the key to making the right connection. However, since all neighborhoods and communities aren't the same, it helps for a company that offers Houston storage units to encompass as many needs and requirements as possible. That not only bolsters the company's bottom line, but also navigates the many nuances that each neighborhood community brings with it.
High End Communities
This area has a number of luxury communities that include such areas as Braes Heights/Braeswood Place, Southampton, Bellaire, River Oaks, West University and Southside Place. Making the most of those homes doesn't mean simply filling up rooms with sometimes unnecessary items, especially when they can be put to good use after those items are stored away elsewhere.
The interests of the above communities can lean toward different aspects of culture, so it's entirely possible that the Museum District also falls under this grouping. In this area, residents tend to be more geared toward purchasing homes emphasizing the architectural aspects of their home, and aren't necessarily focused on size. That smaller approach can often mean that using some self storage Houston areas would be beneficial.
New and Improved
Brand new home construction or a renovation, which is especially evident in Inner Loop communities like Woodland Heights and Afton Oaks, can also require a need of storage units in Houston. This may be due to the span of time in between the sale of a home and moving into a new residence.
Increasing Value in a Variety of Ways
Regardless of the reason, finding a reasonably-priced storage facility that has the size to handle your needs and has convenient payment options is a pretty good litmus test for deciding on your self storage Houston unit.
Given the rapid appreciation of homes in the Southgate area, remodeling and new construction also creates a greater need for such services. Value is also attached to the Houston Heights section, given their proximity to both local shops and the outdoors vibe within a big city.
Growing in Popularity
One of the communities on the verge of breaking through in popularity within the Inner Loop is the Rice Military neighborhood. The development within is one indication, but downtown Houston is also just 10 minutes away. Here again, size isn't the only selling point, so finding nearby storage units in Houston to handle a particular situation is helpful.
Different Options
Even closer to downtown is the Montrose/Upper Kirby section, which prizes diversity and its great nightlife. In some cases, becoming a part of this community means sacrificing some space, but with a flexible storage unit nearby, such concerns are eradicated.
Finally, since the Timbergrove/Lazybrook area primarily consists of one-story homes, space considerations may require the storage of certain items. Having a secure nearby option helps provide a certain level of comfort in moving them away from the home.
Considering the investment made in these homes, it's likely that some of the items that would need to be stored have a value that could not only be financial, but also a treasured family heirloom that needs to be protected. The type of self storage Houston residents expect means that they should be secure and allow for easy access to the items in question.
That's why when it comes time to find the right Houston storage units, A-AAA Houston Storage has the location, security, access and price to always be the right choice. Contact us today!
A-AAA Houston Storage
7625 North Loop East
Houston, Texas 77028
Phone (713) 670-7272




OFFICE HOURS
Monday - Friday 9 a.m. - 6 p.m.
Saturday 9 a.m. - 6 p.m.
Sunday 10 a.m. - 3 p.m.
GATE HOURS
Daily 6 a.m. - 10 p.m.