September 4, 2015
How Using a Storage Unit can Help to De-Clutter Your Home
Categories: Business Storage Storage Tips Useful Ideas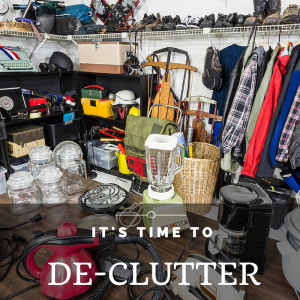 Using self storage in Houston is common for moves and renovations. Alternatively, many people are finding that it is a great way to declutter their home or business. This is especially true if guests and decorations is a big part of your holiday season each winter. Besides holiday decoration and guest furniture storage, there are a long list of reasons homeowners and business owners are finding that Houston storage units are perfect for decluttering.
The health benefits of decluttering
More than a visual aesthetic, many home and business owners are finding that decluttering is the right decision for their health. In some cases, a person can be extremely allergic to dust hanging around the home. Instead of spending extra money on a cleaning service or filters for central air units, the solution is to declutter the home as much as possible. Without extra storage hanging around and gathering dust, everyone can breathe easier.
Storage needs air conditioning too
When you want to declutter the house, do you put everything in a box and stick it in the attic only to find mold growing on it months later? One of the main disadvantages of doing your own storage to declutter your home or business is the quality of your available storage areas. Unfortunately, attics, basements and independent storage sheds have some immediate issues. Namely, those storage areas may not have temperature control. They may also be subject to other weather conditions because the storage areas are not regularly visited or maintained.
Security from burglars, pests and animals
One of the great things about storage units is being able to store items in an area that has specifications in place that ensure pests are not being attracted. In other words, having a secured access fence to your storage units is only half of the security battle. In addition to keeping your possessions free from criminals, keeping animals and insects out of your stored items is also a key. In some cases, hiring pest control for DIY storage schemes is not as cost effective as renting a Houston storage unit.
Packing up Dad's old antiques
Sadly, when a close family member passes away, parting with the beloved relics you associate with growing up in their home can be difficult to part with. Instead of making hard decisions about selling or giving away the treasures you have from a departed loved one, consider putting them into storage instead. When the time arrives to remodel or a relative moves into their first home, you can take the items out of storage.
The best tip for storing items
There is one trick that you will want to keep in mind when storing items in self storage in Houston. Mainly, you will want to ensure that all items are clean and dry before placing them in storage containers. Along with laundering all items, making sure they are dry is also important. In some cases, using a dehumidifier in a room with all of the items you want to store can ameliorate the situation. Organic stains on upholstery may be able to be addressed by a dry cleaning service.
Start decluttering your home with us!
When you need to declutter your home or office, A-AAA Storage is happy to help you find a storage unit in Houston that suits your needs. Give us a call and we can help you get a unit that is the right size for your budget. If you have any questions or need a better idea about items that are restricted by local laws, contact us today. Thank you in advance for choosing us, and we look forward to hearing from you.
A-AAA Houston Storage
7625 North Loop East
Houston, Texas 77028
Phone (713) 670-7272




OFFICE HOURS
Monday - Friday 9 a.m. - 6 p.m.
Saturday 9 a.m. - 6 p.m.
Sunday 10 a.m. - 3 p.m.
GATE HOURS
Daily 6 a.m. - 10 p.m.