January 14, 2015
Do You Need Secure Storage in Houston?
Categories: Secure Storage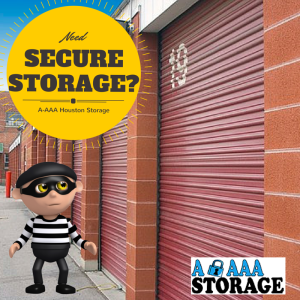 Have you been seeking a secure storage unit in Houston for antiques, archiving documents, storing furniture or making floorspace available at your home or business? There are a number of reasons that a business or private citizen would want a storage unit, but the extra security options are benefits that you will not want to overlook. This is especially true if you want to keep valuables secure and insurance premiums low as a home or business owner. In addition, modern features like climate control have revolutionized the number of items that are ideally store in a storage unit — but there are some items that are prohibited by law.
Why insurance companies care about secure storage
As a homeowner or business owner, your related property is covered by an insurance policy. Far from the outcome of renter's insurance, in the event that your property is stolen or damaged, the payout can be significant for businesses or homeowners. For this reason, insurance companies are harsh critics of offsite storage units. If they decide that they do not like your storage unit options because they do not provide enough security after you file a claim, you could see your annual premiums increase. To get a preemptive strike against premium hikes, choose a secure storage unit company that has clear advertising and presentations that support it has top-notch security for your valuables.
What secure self storage means
When a local secure storage unit company advertises itself by today's standards, there are certain expectations you can ask about. For instance, do they have security cameras, who controls the security cameras and are they also monitored onsite by a member of the self storage staff. Other security features include keypad access to units, keypad access to the individual storage units and 24-hour gate security manned by a real person or offsite security company. However, modern climate control upgrades offer a degree of security that many businesses and homeowners can use to their advantage to protect valuables.
How climate control protects valuables
In the past, expensive property storage for items like antiques, legal document archives and artwork was necessary because traditional storage units did not have climate control. For example, keeping valuables in good condition means you need heat in the winter and cooling in the summer within the storage unit. Along with security features like guards and gate access, climate control is an extra layer of protection you will not want to forego.
Secure sensitive documents offsite
In some cases, businesses can experience a security risk by storing certain types of documents onsite. For instance, lawyers may find that their sensitive file information is best stored at an unknown third location that has 24-hour security overnight due to break-ins by their clients' opponents in court. The staff simply drop off the materials at the storage unit for safe keepings at the end of the business day, and the documents are picked up from storage in the morning.
What you cannot store in a business storage unit
Houston business storage is extremely flexible, and some units are so large you can run part of your operations out of them, but there are a few things you will need to keep elsewhere. This includes firearms, flammable items, animals, perishables such as food and plants, explosives, noxious or hazardous materials and property that may be potentially stolen (such as pawned, antiques or second-hand items). Talking with management or checking the contract can give you further details on prohibited items.
Get your secure self storage with us
Now that you have a better idea of how secure storage can help you, the next step is to get one for your home or business. When you need solutions for storage that ensure the top levels of security and climate control, we are a top choice. We have transparent pricing that you will find suits your budget without giving up the security features you need for your valuables. From document or antiques archiving to equipment storage, we have the storage you want. Regain floorspace from you office or home, and let us keep it safe for you. To get started, contact us and we can answer any questions you may still have.
A-AAA Houston Storage
7625 North Loop East
Houston, Texas 77028
Phone (713) 670-7272




OFFICE HOURS
Monday - Friday 9 a.m. - 6 p.m.
Saturday 9 a.m. - 6 p.m.
Sunday 10 a.m. - 3 p.m.
GATE HOURS
Daily 6 a.m. - 10 p.m.