September 2, 2014
How to Organize Your Storage Unit
Categories: News Packing Tips Storage Tips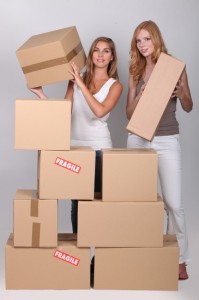 There are many good reasons for utilizing a self-storage unit. Maybe you're in-between homes and need to store your furnishings for a month, or maybe you're trying to de-clutter your current space. Either way, if you're not careful, a storage unit can fill up quickly and become more chaotic than helpful. Here are a few tips on how to maximize space in your storage rental and get the most out of your money.
Start with the right unit size
The first step in creating a well-organized unit is choosing the right size for your needs. Begin with an accurate inventory of everything you wish to store. Once you have that, every unit comes with a description that should give you a fair idea of what will work. For example, a 10 x 10 unit can hold the furnishings of a 1 bedroom apartment plus the appliances. It's probably always better to have too much space than not enough. And be sure to physically walk into the unit and imagine what will go where and whether or not it will work for you.
Proper packaging is the key
Using boxes and crates that are sturdy, uniformed, and stackable will go a long way towards maximizing your space and maintaining order. Stay away from tossing all your things into paper or plastic bags. And use plenty of bubble wrap, towels, or blankets to protect your fragile items. Try to distribute the weight evenly inside the boxes, and clearly label the boxes with its contents.
Take time to create a plan
Before you even begin loading your storage unit, take a moment to consider which items you might need frequently and which items you won't need for a long time. This way you can be sure to keep important items on top or in front. Consider organizing by category, and create a detailed plan that states where everything will go before you start moving in. For larger units, a good blueprint should include a walkway that reaches the back to allow easy access to all items.
Start moving in
Now that you have a plan in place, be sure to follow it to a T. Maximize your space whenever possible by storing smaller boxes inside of large furniture. For example, if you are storing a desk you can place things inside of the drawers. Just be sure to label the drawers well and allow room for them to open. Chairs can be stacked seat to seat and couches can be placed on end to conserve space. Thoroughly defrost and dry refrigerators and you can store things inside them as well. Avoid unwanted rodents or insects by vacuuming underneath cushions and practicing a little good housekeeping. And as we said earlier, be sure to leave room for a walkway.
Be organized and stay organized
Immediately after moving in is a perfect time to sketch out a rough map that you can use to refresh your memory for when you come back. Tape it to the wall or leave it in front so that you can find things quickly. Digital photos might not be a bad idea either so that you have a clear picture of what is where while you're at home. And be sure to keep all these things updated as you come and go. A good diagram and photos plus your inventory list from earlier will make three excellent recourses in your quest to maintain organization inside your rental unit.
Whether you're moving, uncluttering your house, or a student storing possessions over summer break, self-storage units are a great option to keep your valuables safe and secure. Remember that a little planning can make a big difference.
Reserve your unit today!
It's no wonder Houston, Texas, is the fourth largest city in the United States. This energetic, multi-cultural, global destination offers everything from fantastic sporting events, artistic venues, and outdoor recreation, to fortune 500 companies and unique architecture.
Whether you're relocating to Houston for business, attending one of the many academic institutions, or just need some extra space, A-AAA Houston Storage offers secure, affordable solutions to fit all of your self-storage needs. Call today at (713) 670-7272 or use our contact form to leave questions or make reservations.
A-AAA Houston Storage
7625 North Loop East
Houston, Texas 77028
Phone (713) 670-7272




OFFICE HOURS
Monday - Friday 9 a.m. - 6 p.m.
Saturday 9 a.m. - 6 p.m.
Sunday 10 a.m. - 3 p.m.
GATE HOURS
Daily 6 a.m. - 10 p.m.