December 19, 2014
Is Self Storage in Houston Right for You?
Categories: News Storage Tips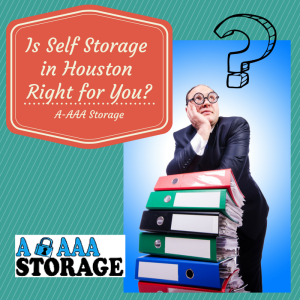 Most Houston residents, at some point in their lives, they need a little extra space. This might be a temporary need or something they need long-term. Either way, self-storage is the solution when you need off-site storage space. Every self storage guide will tell you the benefits of storing your possessions off-site, but you may be wondering why you would ever need self storage. Here are some common situations you may find yourself in where you may need self storage in Houston.
You Are Going On An Extended Vacation
Getting out of Houston for a while? It's nice to have a break from the summer heat, but keeping valuables in your unattended house or apartment may give you an uneasy feeling. That's why most people choose to use off-site self storage. Good self-storage facilities have security measures in place that ensure your valuables are safe. Before you choose which storage facility to store your things in before an extended vacation, be sure to read the security questions on the self storage faq section of their webpage. Find out about cameras, motion detectors, and security guards. You can also look into insuring the items you choose to store.
You Are Moving To A Smaller Place
Sometimes downsizing is inevitable. If you have been in this situation, you may know that a smaller house or apartment means less space to store things. You are faced with making hard decisions about what to keep, what to throw out, and what to stuff in the small storage areas you do have. With self-storage, this is not a problem. You can still keep your memorabilia, holiday decorations, or rarely used items in storage until they are needed again. Plus, you don't have to worry about rummaging through tight storage spaces. A roomy storage unit has all the space you need with extra room to walk around in.
You Are Remodeling And Want To Protect Your Furniture
If moving is not in your future, remodeling may be. More and more people are choosing to remodel their living space rather than moving. Of course, this means you need to take the necessary steps to protect your furniture and other possessions. Self storage is the perfect solutions to this problem. You can rent a storage unit for temporary or long term storage. Find a facility that will allow you to rent month to month to avoid paying for a unit you aren't using.
You Want To Convert Storage Space To Living Space
If you are like most people, you have a space in your home dedicated to storing rarely used items. This may be an attic or basement. What happens when you want to make that storage space into living space? You have some decisions to make. Do you chuck your stuff or find a new home for it? Self storage could be the long term solution you need in this situation. Similarly, if you have been using living space for storing things such as a spare room or garage, it may be time for self storage.
To Keep Paperwork From Cluttering Your Office Or Home
Almost every book on organization and self storage guide will agree, paperwork is the number one problem in household and office clutter. The problem is, you can't just throw out important documents. Things like tax documents; birth, death, and marriage certificates; and certified copies of property documents all need to be stored in a safe location. The easiest way to do this is to rent a self storage unit. Make sure your storage unit doesn't flood or hold moisture. Most facilities will address these issues in their self storage faq section of their webpage.
If you find yourself in any of these situations, self storage in Houston may be just right for you. Make the call today.
A-AAA Houston Storage
7625 North Loop East
Houston, Texas 77028
Phone (713) 670-7272




OFFICE HOURS
Monday - Friday 9 a.m. - 6 p.m.
Saturday 9 a.m. - 6 p.m.
Sunday 10 a.m. - 3 p.m.
GATE HOURS
Daily 6 a.m. - 10 p.m.