March 23, 2015
How to Spring Clean Your Storage Unit
Categories: News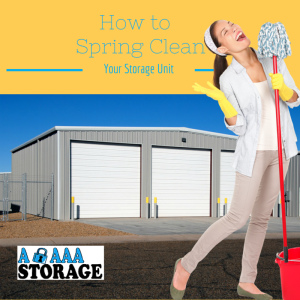 After a long, cold Winter in Houston, Spring is finally here! With Spring comes sunshine, flowers in bloom and of course spring cleaning! So dust off your patio, roll up your sleeves, and get ready to get to work!
Just like your home, you can clean your storage unit for spring. Whether you only visit it to drop off boxes or have regular access for business purposes, it could use more than a dusting once a year. Did you know that spring is the best time to clean your storage unit? Tips like these are listed below to help you get an edge on spring cleaning and organizing your storage unit.
Why Bother with Cleaning a Storage Unit?
Even if you have everything in plastic boxes, you can still take the time to clean up the storage unit with basic cleaning tools or products. In particular, cleaning the floor can help you identify anything you need to bring to the attention to the storage unit manager. For example, finding rodent feces while you are sweeping up is something that needs to be addressed immediately. Cleaning up cobwebs can prevent nasty spider bites in the storage unit in the future.
What About Cleaning Supplies?
The idea behind storage unit cleaning involves your basic tidying up. This includes using dusters and sweeping the floors with a broom. Generally speaking, you will not need any chemical cleaners for storage unit cleaning. To downsize your storage, you will also need to bring several strong garbage bags for junk and some boxes to separate the things you want to sell or donate.
Why is Spring the Best Time for Cleaning a Storage Unit?
One of the primary tasks involved with spring cleaning storage units is getting rid of old stuff. Instead of putting it in a dumpster, make a little extra cash by having a yard sale. While the storage unit may not be convenient for attracting customers for a yard sale, having a storage unit where potential customers from online classifieds can meet you might be ideal. Spring, of all times of year, is when yard sales are traditionally the most successful. Of course, whatever you do not sell will be welcome at local charity thrift stores.
Organizing your Storage Unit in the Best Way
When it is springtime, there is no chance of having heat stroke because you are working in an un-air conditioned space. This means that you have a good chance to reorganize your storage unit so you can avoid renting a larger unit in the near future. One major tip to save floor space in a storage unit is to store heavy furniture on the bottom with lighter boxes on top of it. You can also use smaller plastic bins to fill in spaces that are too awkward for larger boxes.
Organizing What is in your Storage Unit
Once you have cleared away what you do not want to keep, the next step is to keep track of what you already have in there. When you label a box, keep a small card that lists the contents. This way, when you need something from the storage unit, you know exactly where it is. This cuts down on hunting through a storage unit that is reaching its peak capacity.
How to Give Up Some Precious Memories
One of the main obstacles with downsizing a storage unit is the emotional attachment. To finally get rid of some items, especially if they are deteriorating, take a picture instead. For example, artwork from the kids can start to become discolored in a short period of time. The macaroni necklace they made in preschool may become gummy or break apart. Once you have all of the photos, you can arrange them in an album or frame them.
 Sign on with a Storage Unit Company you can Trust
Each spring, we look forward to getting a chance to get to know our customers when they come to do their spring cleaning. When we see you at your unit working on your spring cleaning, we stop by to give you a friendly hello and take the time to thank you for choosing us for your storage units. When you have any problems or questions about your storage unit, we are happy to help. Naturally, if you need new service, a bigger unit, or want to refer a friend, be sure to contact us today.
A-AAA Houston Storage
7625 North Loop East
Houston, Texas 77028
Phone (713) 670-7272




OFFICE HOURS
Monday - Friday 9 a.m. - 6 p.m.
Saturday 9 a.m. - 6 p.m.
Sunday 10 a.m. - 3 p.m.
GATE HOURS
Daily 6 a.m. - 10 p.m.