May 1, 2013
How to Create a Man Cave in Your Houston Storage Unit
Categories: Self Storage Units Storage Tips Useful Ideas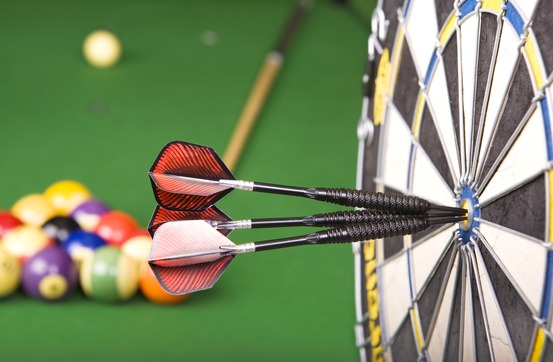 Every guy wants a place that he can use to get away from life's stresses, but not guy has enough available space at home to set up the ultimate man cave. The good news is that many Houston self storage facilities can be affordable, secure extensions of a guy's home space, so if you're a guy who's been wanting your own man cave, rent a storage unit. Many storage units come with electrical outlets, climate control and high levels of security, so whatever you choose to keep in your unit will be kept safe and sound until you show up ready for some guy time!
1. So, what do you want in your storage unit man cave?
Imagine what you'll be doing in your man cave and incorporate the items to support it. If you need a home gym, gather weights, benches, floor mats, and other fitness equipment. If you're wanting a game room, look into the electronics and furniture needed to be comfortable while enjoying a gaming session.
2. Hook up a mini fridge in the unit for handy snacks!
Of course, you'll probably want to eat from time to time in your self storage rental. Equip your storage unit with a miniature refrigerator and stock it with all of the necessary essentials. You can stock your favorite beverages, snacks (bacon!), and other goodies. Whatever you can picture yourself kicking back and munching on – be sure to keep it on hand in the fridge.
3. Install a television and electronics.
Of course, you'll probably want some legitimate entertainment in your storage facility unit turned man cave, so why not equip it with a flat screen TV and some video games? It's not likely you can access the internet from your self storage rental, but you can still have the guys over for the occasional Call of Duty match. Because these types of things also use up a lot of electrical outlets, you may also want to invest in a surge protector.
4. Maybe a poker or pool table?
Poker and pool tables are also great with small get-togethers. If you've got the room once you've moved in your furniture and electronics, you should definitely opt to put some physical, competitive entertainment somewhere. Or you could just have a push-up competition when you need to blow off some steam.
5. Go crazy with the decorations (and don't forget lamps)!
Polish the man cave off with some befitting decor! It's your space so you don't have to stick with the design aesthetic that rules at home. Maybe you have a favorite football team; you can adorn your walls with posters or wall decals that celebrate that football team. Additionally, place lamps throughout the man cave to light and accent the room.
Set Up a Man Cave in A Houston Storage Unit!
Overall, there are many things you can do to transform your self storage unit into a man cave that you can call your own. Design it to fit your particular interests for ultimate fun and entertainment! Just be sure you check the policy and rules of your Houston storage unit facility (some storage companies only allow access during certain hours and most don't allow overnight stays, so no sleepovers!). Once you begin setting up your man cave, whether it's a fitness gym, game center or just a place to get some  peace and quiet, we hope that the result is a space you can be proud of and return to when you're due some guy time!
A-AAA Houston Storage
7625 North Loop East
Houston, Texas 77028
Phone (713) 670-7272




OFFICE HOURS
Monday - Friday 9 a.m. - 6 p.m.
Saturday 9 a.m. - 6 p.m.
Sunday 10 a.m. - 3 p.m.
GATE HOURS
Daily 6 a.m. - 10 p.m.