September 23, 2015
The History of Self Storage Units in America
Categories: News Self Storage Units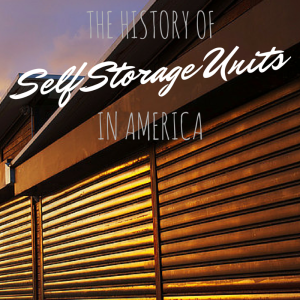 Did you know that by renting a storage East Houston facility that you are participating in a historic Texas business model? Storage units are commonplace throughout America, but have you ever wondered how the self-storage industry got started? Whether you are seeking Houston self storage or are looking for the same services in another city — the history is the same, and the industry is historically traced to Texas.
First storage units were not personal
Although we associate the storage unit Houston industry with rental units, self-storage actually got started when people started making beer. According to archaeologists, writing was invented in Ancient Mesopotamia in the Middle East because people started settling down into villages to raise grain to make beer. The store houses for the beer grain were distributed throughout the lands of Mesopotamia, and the ancient peoples of those times invented writing to keep track of the beer grain inventory available in each storage unit.
The first public rental units
Aside from food, grain or commercial storage, the history of storage units appears to have begun in Ancient China. As far as a more recent history of business storage in America, it begins in 1891 with the Bekins Company in Omaha, Nebraska. This company also helped improve storage unit models by building the first fireproof warehouses. They also contributed to the development of the concepts of modern moving vans and storage containers.
The first personal storage units
Although it can be assumed that places like shipyards, train yards or business districts have been traditional areas to rent space for storage of merchandise or goods, rental spaces for storage for regular people may have stemmed from locker rentals associated with the invention of public transportation like steamships. For example, storage units that were later mimicked in America were based on storage lockers that were made available for British travelers by banks in the 1800's. Those first commercial storage unit users that wanted the rentals for personal use were typically tourists that wanted to leave some belongings in storage while they were on leisure voyages.
America expands on storage unit industry
There are several claims for opening the first storage unit in America. One idea is that, in addition to the needs of students or travelers, the intended first customers of rental storage units may have been military employees that needed to store personal items when they were deployed. In addition to a claim that the first public storage unit in America was in Fort Lauderdale in 1958, it is alleged that the first storage unit to use garage doors and was geared toward the oil industry. It was called A-1 U-Store-It U-Lock-It U-Carry-the-Key and was built in Odessa, Texas in 1964.
Reasons for the rise in self-storage
At one point in history, there was a sudden spike in a need for storage units in America. Although having more disposable income after World War II was certainly a factor in having more items to store, there is one piece of trivia that frequently gets overlooked. Namely, America started building more homes in the 1960's when the storage unit industry exploded, but fewer houses during that time were built with attic space. To prove this claim, a writer at Slate Magazine points out that storage unit growth is high in areas of America called The Sunbelt because homes are traditionally built without attics in those areas.
The first public storage units for non-businesses in America
According to several reliable sources, the humble history of the modern American storage unit is usually credited to Lauderdale Storage in Fort Lauderdale, Florida. Soon after, in the 1960's, the first storage unit chain was opened in Texas and eventually led to Houston storage facilities that you see today. Allegedly, the first storage areas that Texas provided had no names, but were later influenced by the company called Shurgard National Storage Centers, Public Storage Storage USA.
Be a part of history at A-AAA Storage Houston
Now that you have a better idea of how Houston self storage began, the next step is to give us a call! Whether you want a unit for the short-term or long-term, we have the competitive sizes and prices for Houston storage that you have been looking for. To get a better idea of how storage East Houston facilities can benefit your unique needs, contact one of our friendly staff today. Thank you for choosing us at A-AAA Storage, and we look forward to hearing from you.
References:
Spare Foot – "A Brief History of Self Storage"
Slate Magazine – "Self Storage in America"
A-AAA Houston Storage
7625 North Loop East
Houston, Texas 77028
Phone (713) 670-7272




OFFICE HOURS
Monday - Friday 9 a.m. - 6 p.m.
Saturday 9 a.m. - 6 p.m.
Sunday 10 a.m. - 3 p.m.
GATE HOURS
Daily 6 a.m. - 10 p.m.