May 21, 2013
6 Unusual Items Found in Self Storage Units
Categories: News Self Storage Auction Weird Storage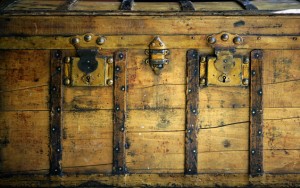 Self storage unit auctions are now very popular, partly due to shows like "Auction Hunters," and partly due to the addictive excitement of purchasing a unit and finding unexpected (and hopefully valuable) items inside. We've seen some unusual items stored in our Houston storage units, but most people tend to keep ordinary stored belongings like large pieces of furniture, boxes of books, or exercise equipment, within their self storage units. However, some people do store some crazy and unusual items in storage unit, and these are regularly left behind and discovered by the unit purchaser after auction. Here are 6 of the most bizarre items ever found in self storage:
1. Live animals. Leaving pets (or former pets) in a storage facility surely counts as animal cruelty. Once in a while, however, an animal actually survives the experience, even when the owner abandons the storage unit. Among the animals that have been found alive in a self storage unit include a python and two tarantulas.
2. Live People. With rents skyrocketing in many areas, some people have the idea of renting storage to units to store –themselves. While this is illegal, it's far from unheard of. Sadly, sometimes police have found homeless children living in storage units.
3. Unreleased Michael Jackson Songs. Finding any unreleased material from the late King of Pop would be amazing in itself. The fact that they were left in a storage facility is almost unbelievable, though. The fact is that hundreds of songs by Michael Jackson that no one had heard before were discovered in a storage locker belonging to Michael's father, Joe Jackson.
4. Pirate treasure worth $500,000. This sounds more like a movie plot than real life, but it actually happened to one lucky person. A man from San Jose, CA purchased the contents of a storage locker, having no idea what it contained and found gold and silver coins and other items dating back to pirate days. He paid $1,100 for the unit.
5. A live grenade. This was a potentially explosive discovery, quite literally. A man from Muskegon, MI, purchased the contents of a storage locker and found a live hand grenade stored in a gun case. Fortunately, he was able to take it to a fire department where the bomb squad deactivated it.
6. A classic car. The Auction Hunters (from the Spike TV show) found a 1969 Chevelle stored in (an obviously good sized) storage unit. They ended up selling it for $9,000.
Lesson to Be Learned – Don't Leave Items in Your Storage Unit!
All kinds of unusual items are kept in storage facilities. No doubt, some of the strangest never get reported! If you decide to use our storage facility in Houston, make sure you keep track of what you left there! Otherwise some lucky (or unlucky) storage auction hunter might find what you've forgotten! On the other hand, if you are interested in trying your luck and don't mind a bit of work, you may want to check out a storage unit auction to find out what fascinating, valuable or just plain weird items the previous owner stashed there!
A-AAA Houston Storage
7625 North Loop East
Houston, Texas 77028
Phone (713) 670-7272




OFFICE HOURS
Monday - Friday 9 a.m. - 6 p.m.
Saturday 9 a.m. - 6 p.m.
Sunday 10 a.m. - 3 p.m.
GATE HOURS
Daily 6 a.m. - 10 p.m.