Storage for Houston Students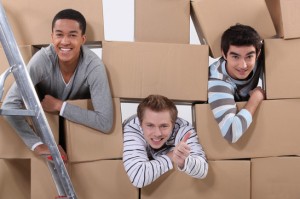 At some point, everyone needs a self storage unit. People use them to de-clutter their house before showing it for sale. People use them to store furniture and other items inherited from family members who have passed. Businesses use them for a number of reasons. Storage units have become a hot item because everyone needs one sometime. Another major percentage of the Houston population who are likely to need self storage units? Students.
There are many reasons A-AAA is a great self storage option for Students. Lets take a minute to look into a few of these reasons in a little bit more detail. In our experience, Houston's Students are looking for:
A Storage Facility Near Your School or College
We are proud to be located very near to the following Houston schools and colleges:

The University of Texas Medical School at Houston (1.3 Miles away)
We're the obvious choice for storage for Houston students at UT Med School (LBJ General Hospital) due to our extreme proximity. When looking for a storage option in summer months, UT Med students need look no further! Our location isn't the only benefit though, all of our storage services make us a great option for students. Our facility is clean and well lit, and video surveillance and an onsite manager ensure the safety of your goods. We are also one of Houston's most affordable self storage options, which will definitely be appealing to any student!
View Larger Map

Houston Community College – Northeast Campus (2.6 Miles away)
Our pricing makes us a good option for any student, and at just 2.6 miles away, students at Houston Community College's North Campus will be hard pressed to find a closer self storage facility. Our secure, gated facility, online payment options and convenient pin-pad accessibility will ensure all of their requirements are met. We are also extremely flexible, and understand the needs and semester-based requirements of our student customers.
View Larger Map
Affordable Storage for Students
As previously mentioned, our pricing is extremely competitive, making us one of the more affordable storage facilities in the city of Houston. Students are often on a tight budget, and we do what we can to help, by pricing our units reasonably.
View our Pricing!
A Secure Self Storage Facility
In addition to being very near their schools, the storage units have a manager who lives on the site. The units are secured using video surveillance, fencing and password-protected gates, so not just anyone can get in. The student's unit will be accessible, secure and shielded from the elements, and have exterior, drive-up doors which is safer than walking through secluded halls to get to the unit.
If you're looking into your options, please don't hesitate to contact us today. We are eagerly awaiting your call!
Contact Us!
A-AAA Houston Storage
7625 North Loop East
Houston, Texas 77028
Phone (713) 670-7272




OFFICE HOURS
Monday - Friday 9 a.m. - 6 p.m.
Saturday 9 a.m. - 6 p.m.
Sunday 10 a.m. - 3 p.m.
GATE HOURS
Daily 6 a.m. - 10 p.m.