May 14, 2015
Storage Unit Popularity Exceeds McDonald's
Categories: News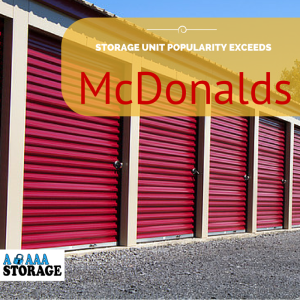 We are familiar with the old adage that McDonald's uses on their advertisements that says "billions served." Could this also be true of the self storage unit industry? Interestingly, there are dozens of ways that the public has found to make self-storage units more popular than America's favorite fast food restaurant. To get a better understanding of how important storage units are, keep reading.
Are storage units more popular than McDonald's?
When you live in a smaller town, saying that the area that you live might have more storage facilities than physical McDonald's locations may be easier to imagine. In truth, a town may have only one McDonald's restaurant with multiple storage units dispersed throughout town. In truth, the main reason that Americans love storage facilities more than a fast food hamburger is due to their love for storing extra home items — and the evidence is clear.
Are Americans using storage facilities for hoarding?
When you exceed the available space in your home, all the extra boxes must go somewhere and this is often a storage facility. Despite the negative public opinion about hoarding, most Americans find that they are using storage when they absorb another household or lose one. For example, if a loved one passes away, it may take many months before the family feels like sorting through their things and deciding what to keep. There are also other uses for storage facilities that are far from an image of a hoarding saving boxes of old newspapers and phone books. Good examples are using storage facilities to ease combining households, relocating or moving. Another popular option for military professionals is to store their personal items in a storage unit while they serve overseas instead of maintaining an empty apartment indefinitely.
Why are there so many storage facilities in the first place?
Naturally, the reason there are so many storage facilities in America is due to their profitability and need. Regardless, there does seem to be an over-availability of options. According to the Self Storage Association, each American has about 20 feet of space available for a storage facility at any given time. Considering most people rent a storage facility that is large enough to park a car, this makes sense. However, it is mind-boggling to imagine each American can rent their own garage — and it makes you wonder what people are doing when they rent more than one storage unit at a time.
How many Americans use storage facilities?
Overall, it is estimated that about 9-percent of Americans use self-storage units. The average size of the facility they use is about 54,600-feet in size. In general, most storage units have an average of 550 units available per business address. Almost 30-percent offer moving truck or van rentals at the facility and about 20-percent offer parking or storage for vehicles, boats, and recreational vehicles.
Other statistics about storage facility renters are:
About 70-percent are single-family households
Only about 25-percent live in apartments
Homeowners with a garage are 65-percent of storage facility renters
How many storage facilities are there in America?
While there are only 35,000 McDonald's restaurants worldwide, there are almost 50,000 self-storage units in America. Other interesting facts about the average storage facility in America include that there is a total of 2.3 billion square feet of rentable storage space in America, and over half is in suburban areas.
Storage facilities with an edge are the new startups
Storing old items is a business that extends as far back as modern human history. Alternatively, the services they offer have always varied greatly. Many modern storage companies cater to businesses or commercial companies and give them warehousing options. For homeowners, the option has always been the more practical self-storage facilities. Nevertheless, the security features added during the 2000's are now being upgraded with movers. The services these new startup storage facilities offer is someone that stops by your home, picks up your boxes, and delivers the items to your specific storage unit.
Rent a storage facility with us today!
Now that you have a better understanding of how storage is to Americans, the next step is to contact us. We can help you move into your new unit, and you will find our pricing and services to contain all the features you require. To ask questions or get other advice about renting a storage facility, contact A-AAA Storage in Houston. We look forward to hearing from you and we thank you for being our customer.
A-AAA Houston Storage
7625 North Loop East
Houston, Texas 77028
Phone (713) 670-7272




OFFICE HOURS
Monday - Friday 9 a.m. - 6 p.m.
Saturday 9 a.m. - 6 p.m.
Sunday 10 a.m. - 3 p.m.
GATE HOURS
Daily 6 a.m. - 10 p.m.